SPEND WORLDWIDE WITHOUT THE STRESS OF CURRENCY CONVERSION
Grappling with various exchange regime and processes across diverse geographical locations when you travel can pile on the stress. Our HB Naira Credit Card allows you spend your own money without currency conversion, any time, everywhere.

Card validity period of 3 years

Secured by Chip & PIN technology
It is a Naira denominated card.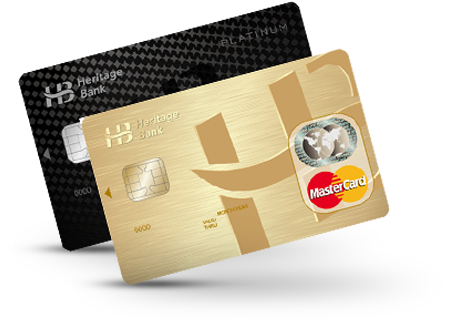 It is a naira denominated card
Acceptable worldwide wherever MasterCard logo appears
It can be used on ATM, POS and WEB
Highly secured with Chip and PIN Technology.
3 years revolving credit limit, therefore card is valid for 3 years.
Minimum monthly repayment is only 20%
Eliminates need to carry cash when traveling
VIP/ Priority Pass treatment at hotels and access to lounges at airport accredited by MasterCard.
Access to exciting benefits and offers through www.pricelessafrica.com
Enjoy Financial Freedom with the Heritage Naira Credit Card
Welcome to a world of Prestige